Here at Hardings Concrete we operate a concrete pumping service. We have recently introduced a mini truck pump for access to those really hard to reach places.
Our line pump is mounted on 7.5tonne Mitsubishu Canter. Allowing access to the smallest of sites and enabling us to park in local side streets without too many problems. Our mini truck pump creates less waste and mess than the standard boom pump and so is perfect for the smaller residential jobs. This pump can pump 40 linear metres from the back of the truck.
Our pump service includes a pump technician to set out the pipes and operate the pump and we also clean our pump out with minimal mess.
If you need to go over a house or fill concrete blocks you many need a boom pump.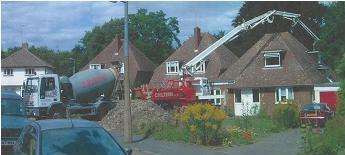 The more common type of concrete pump you will see is a boom pump. We can supply you with pumps with different length booms. A 16 metre may be required for a domestic job whereas we can also supply a pump with a 32 metre boom for larger jobs, such as the building of tower block. For Residental work it is perfect from getting over walls, bushes, or even houses. A boom pump is comming used when you need concrete at the top of a block of new flats, for upper levels of a new house, and for Beco walls.